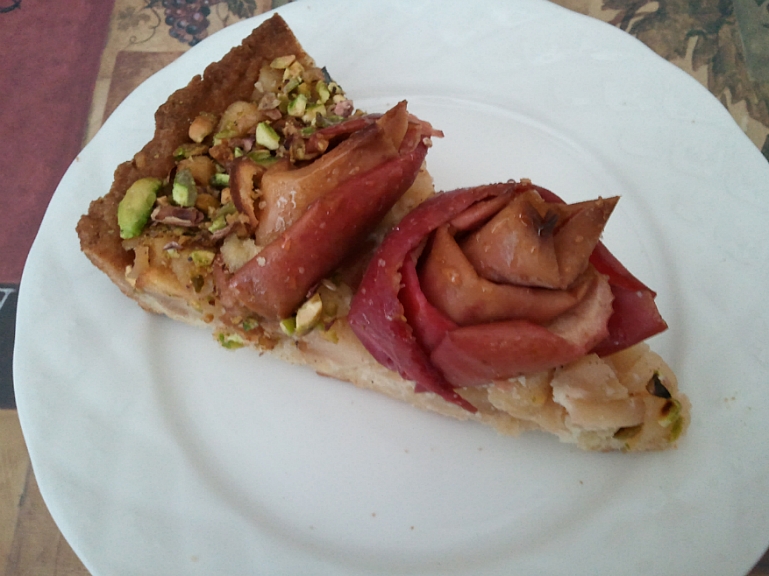 My view of apples have changed so many times during my life.
At first, when I was about 3 years old, apples were like 'my dad's fruit', because he used to pick apples for me and my sister from apple trees every weekend. We would eat them on the spot, dripping apple juice all over ourselves, munching them down happily.
Then, I started to like strawberries, and my love for apples slowly diminished. I thought apples were too hard, and my mom insisted on eating the peels as well, even though I hated them.
But then I came to America, and I discovered millions of different varieties of apples that I could buy, and I was amazed.
Gala, fuji, honeycrisp, grannysmith, red delicious...
It was ridiculous! (in a good way)
So I just HAD to try all the apples that I could find in stores, and I started to love apples again! Fuji apples are by far my favorite apples to snack on, and honeycrisp apples for baking.
Then there was a time when I was obsessed about restricting myself from sugar because I found out that my grandfather had diabetes, so I simply didn't eat any fruits at all, except tomatoes (is that a fruit?).
But now, I LOVE fruits! I still try not to overeat them, but I tend to use them a lot for baking, and apples are especially versatile, so they're back on my 'like' list again:)
This rosy apple tart tastes just as good as it looks. I'm sure a lot of you will be able to make it way prettier than mine, and mine's not exactly perfect, but you get the idea, right?
It's supposed to resemble a rose garden, the rolled apple peels being the roses, and the chopped pistachios being the umm... green background:)
Anyways, I had a little trouble with the roses, so it didn't turn out as beautiful as I had hoped it would, but it tasted DIVINE, and that was enough for me. For now.
Oh, FYI, this is tart doesn't have the best crust in the world, but it works for me. It's more like a crumbly crust rather than a flaky one, so you might want to use another tart shell recipe if you like flaky crusts.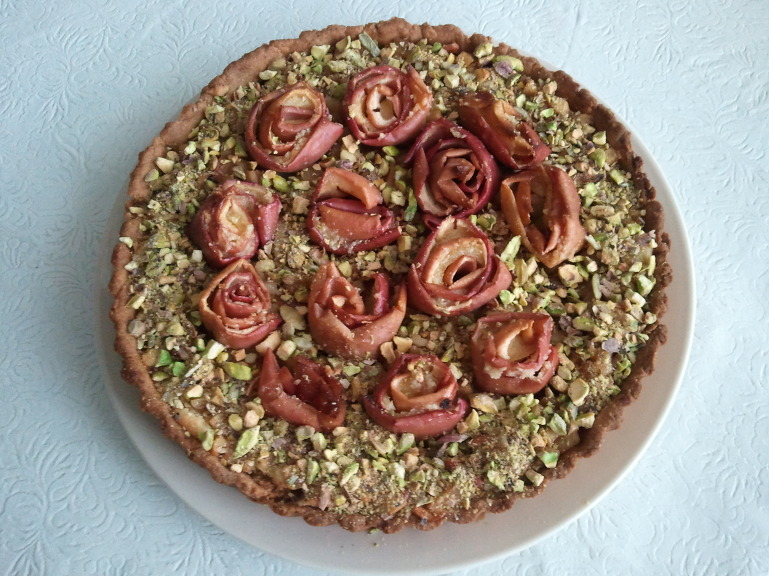 Rosy Apple Tart
makes 1 9-inch tart
Ingredients:
For the Crust:
40g/1.5 oz ground almonds (almond flour)
100g/3.5 oz cake flour
40g/1.5 oz powdered sugar
1/3 tsp baking powder
60g/2 oz unsalted butter
1/2 egg
For the Almond Filling:
160g/5.7 oz ground almonds
110g/3.5 oz powdered sugar
120g/4 oz unsalted butter, softened
2 eggs
2 egg yolks
2-3 drops vanilla essence
For the Apple filling:
2-3 large apples, peeled without breaking, peels reserved
2 tsp ground cinnamon
2 tbsp honey
1/4 cup granulated sugar
For the Roses:
4 large apples
1 cup salted and roasted pistachios, in shell, coarsely chopped
1/4 of Almond Filling
Directions:
For the crust:
In a large bowl, or in a food processor, combine flour, ground almonds, powdered sugar, and baking powder, or pulse a few times. Put in butter and eggs into bowl or food processor, and cut into the flour with two knifes or a pastry blender, or pulse until mixture forms a ball. Wrap dough in plastic wrap and chill for 2 hours in refrigerator.
Roll chilled dough into a 10-inch circle and fit into the tart pan. Prick many holes in the bottom with a fork, and bake in a preheated 320F oven for 20 minutes.
Let cool completely.
For the Almond Filling:
Cream butter with powdered sugar in a mixing bowl with an electric mixer. Gradually add eggs and egg yolks, and beat in vanilla essence. Stir in ground almonds with a spoon or a spatula. Reserve 1/4 of the filling in a ziploc bag, for garnish.
For the Roses:
Halve 6 apples (including the ones for the filling AND the roses) horizontally. Peel apples with a paring knife, peeling around the apples without breaking it. Lay them out nice and long on a baking sheet and bake in a preheated 350F oven for 4 minutes. Cut off small corner of the ziploc bag and pipe reserved almond filling along the apple peels.
Roll them up to make them look like roses, and secure with rubber bands.
For the Apple Filling:
Chop apples (they should be already peeled, since you made the roses with them) finely and toss with the rest of the apple filling ingredients in a large saucepan. Cook over medium-low heat until softened.
To finish:
Spread almond filling on cooled tart shell. Spread the apple filling on top. Arrange the roses on the apples after taking the rubber bands off; press down to secure. Bake in a preheated 350F oven for 30-35 minutes.
Sprinkle chopped pistachios on top to make a green garden.
Slice and enjoy!