One of the many advantages of baking at home is that when you make cream puffs...
YOU CAN STUFF IN AS MUCH FILLING AS YOU WANT!!
These cream puffs, filled with creamy pistachio pudding and frosted with sweet, sugary chocolate icing, were made simply to satisfy my own cravings:)
I didn't care how they looked, or how messy they got; I just wanted to gobble, gobble, gobble!
Although, I have to say, they look pretty scrummylicious to me;)
Overall, these were heavenly. The icing was a little too sweet for my taste, but then again, I used semisweet chocolate instead of unsweetened chocolate because that was all I had, which probably made a huge difference. Oh, and I also made some other healthy substitutions, so I didn't feel guilty at all.
I got this recipe a few months ago from my cooking teacher, and after we made them in class, everyone was licking the frosting and filling off their mixing bowls!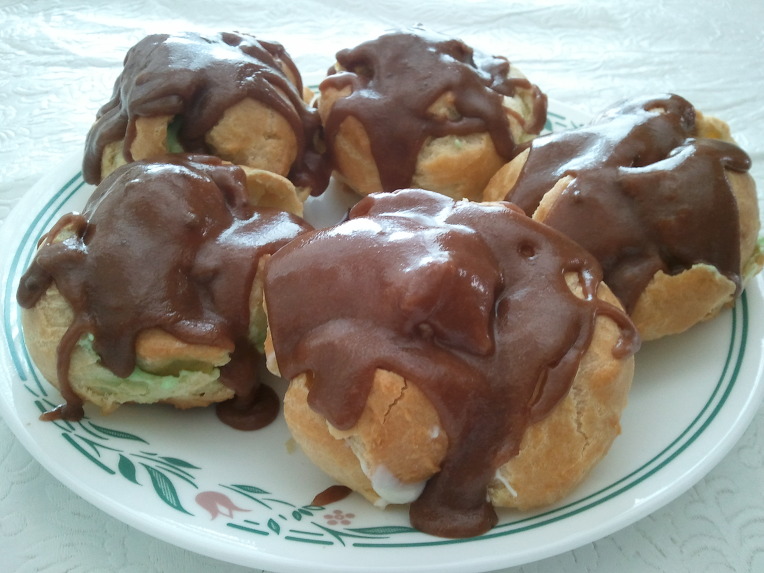 Giant Cream Puffs with Chocolate Frosting
recipe from my cooking teacher
Ingredients:
For the Cream Puffs:
1/2 cup all purpose flour
1/2 tsp sugar, if desired
For the Filling:
One 4-serving box of Jell-O instant pudding and pie filling, any flavor
1 cup whipping cream (I used 2 cups fat free cool whip)
For the Frosting:
1 oz unsweetened chocolate
1 cup sifted powdered sugar
Directions:
For the cream puffs:
In a medium saucepan, combine water, butter, salt, and sugar, if desired. Bring to a boil. Add all the flour at once, stirring vigorously over low heat until the mixture forms a ball. Remove from heat; cool slightly. Beat in eggs one at a time, beating well after each addition. (The batter may look curdled, but this is normal, and it will become smooth in the end. No worries!) Drop by scant 1/4 cupfuls about 3 inches apart onto an ungreased cookie sheet. Bake on the lowest rack in a preheated 400F oven, until puffed and golden, about 30 minutes. Cool in the oven with door slightly open.
For the Filling:
Chill 2 bowls with beaters. Whip whipping cream in one bowl until stiff. In the other bowl, mix pudding mix and milk. Mix for only 1 minute at high speed. Fold the pudding and the whipped cream (or cool whip) together thoroughly.
For the Frosting:
In a microwave, heat unsweetened chocolate and 1 tsp butter in a microwave safe bowl. Stir in sifted powdered sugar and hot water, 1 tbsp at a time. Beat until smooth.
To assemble:
Cut off the tops of the cooled puffs and pull out any soft dough. Save the tops. Fill puffs with filling, replace tops, and frost with chocolate frosting. Refrigerate until serving.
Make ahead: Make the puffs, filling, and frosting, and keep refrigerated. The next day, crisp up the puffs, after pulling out the insides, in a preheated 350F oven for 5 minutes. Cool, then assemble.