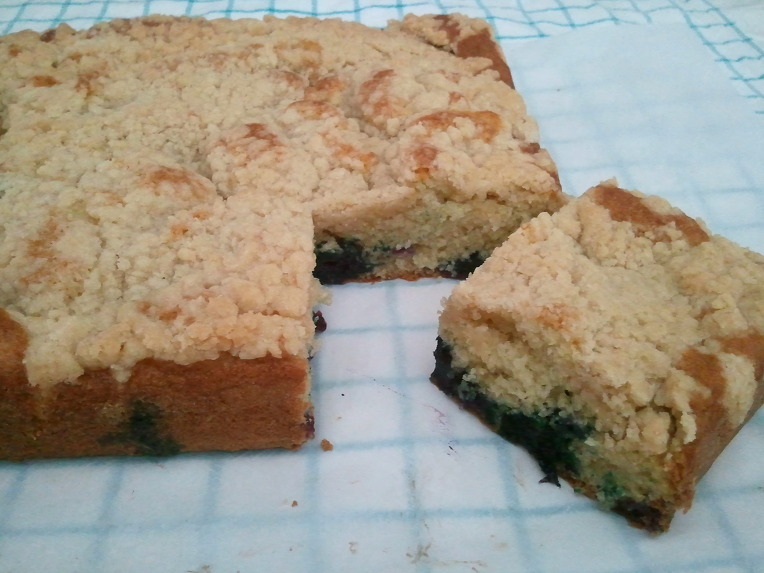 I love Martha Stewart's recipes.
Her recipes almost always guarantee success, so I browse her website practically everyday. Once I start browsing, I just can't stop. The list seems to go on forever, and there are loads of creative recipes that I've never even thought of.
But of course, there are plenty of classic ones that bring me a feeling of 'home, sweet, home', and this blueberry crumb cake is definitely one of them.
This cake is the yummiest, the moistest, and the most tender crumb cake I have ever baked.
Usually, when I bake things in a square pan, the edges become a little firmer than the inside, but this cake is moist and tender right until the very edge of it. When I hold it in my hands, they kind of feel marshmallow-y and very soft, and they almost fall apart because of their tenderness.
The streusel crumbs on
top have a very slight crunch, but they're still on the softer side. And they don't even have a lot of butter in them! But don't get me wrong. It is NOT over-tender.
I have tried this recipe 3 times, each with cherries, blueberries, and peaches, and all of them turned out absolutely amazing. This is going into my 'best recipes' file, and I highly recommend you try it out too:)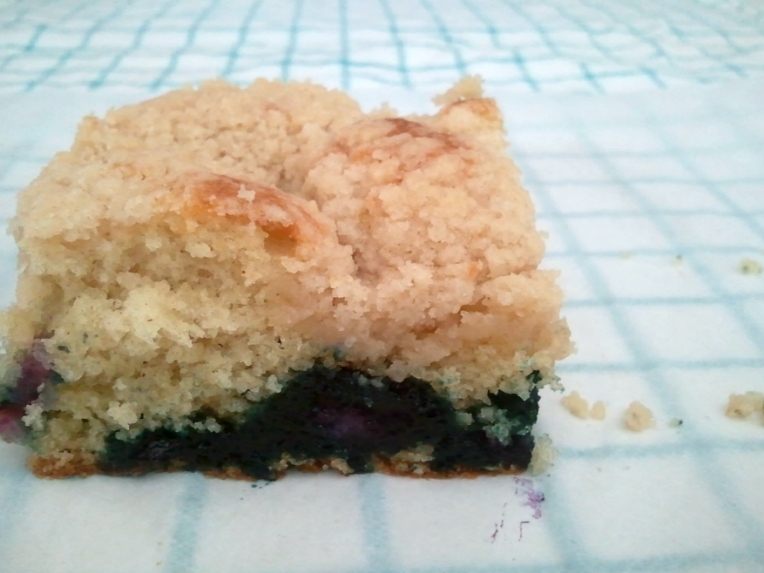 Blueberry Crumb Cake
Ingredients:
For the Cake:
1+1/2 cup all purpose flour
1+1/2 cup fresh blueberries
1 tsp all purpose flour (for coating blueberries)
For the Streusel Topping:
1/2 cup brown sugar, packed
Directions:
Preheat oven to 350F.
Line a 9-inch square pan with parchment paper.
For the Streusel Topping:
In a medium bowl, stir together flour, brown sugar, and salt. Cut in the butter with your hands or a pastry blender until large, moist crumbs form. Chill.
For the Cake:
Combine milk and lemon juice.
In a medium bowl, whisk together flour, baking powder, baking soda, salt, cinnamon, and nutmeg. In a large bowl, beat the butter and granulated sugar with and electric mixer until fluffy. Add egg; beat well. Add flour mixture and milk mixture alternately until just combined. In a large bowl, toss the blueberries with 1 tsp of flour. Fold into the batter; spoon into prepared pan.
Sprinkle cake with streusel topping. Bake until golden brown and a toothpick inserted in the center comes out clean, about 30 minutes. Let cool completely. Cut into squares.