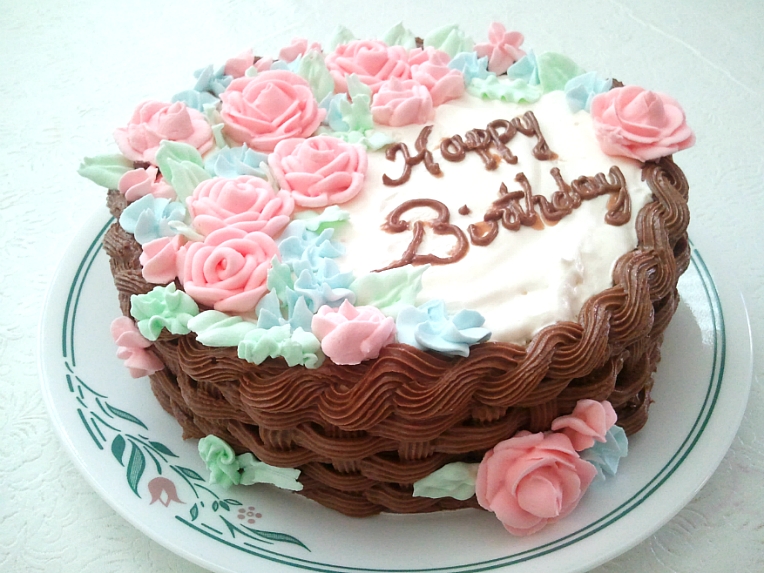 Tada!
My very first attempt at cake decorating!
I was shy and I always stuck to simple whipped cream when it came to frosting cakes, but I guess it was about time I'd tried something new.
So I made some royal icing and buttercream and used them both on this beautiful flower-covered cake!
Today was my mom's birthday, so I made a full course dinner for her (well, technically, we had it for breakfast. Yup, at 8am in the morning.) including an appetizer, an entree with two sides, and a dessert :)
So the menu was:
~*~
Appetizer - Korean rolled omelettes
Entree - Braised beef eye of round steak with BBQ sauce
Side - Garlic mashed potatoes
Dessert - Flower cake with chocolate frosting
Wow... the main dish just looks like a big lump of 'stuff'.
I wasn't too happy with the beef because the sauce turned out a little too sweet, but overall, I was proud of my special gift for my mom:)
Especially the cake.
OMG, the cake.
It was the best thing on the menu.
Sinfully delicious and divine. That's what it was.
The chocolate buttercream was perfectly creamy and rich, and the cake layers were very moist and tender.
And the filling was...
Okay, I cheated a little and used pudding mix and cool whip for the filling, but I was so busy cooking and baking yesterday that I just didn't have the time to make bavarian cream.
Anyway, it was a wonderful cake, and the flowers were of just the right sweetness too.
I'm planning to make this cake again for my dad's birthday, but with different decorations!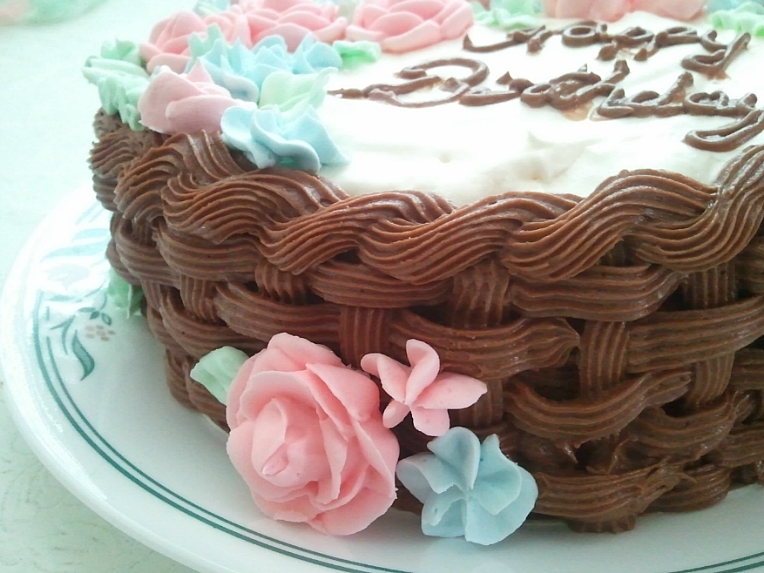 Flower Cake with Chocolate Frosting
makes 4-layered 8-inch cake
Ingredients:
For the Cake:
5 egg yolks
5 egg whites
1 1/2 cups granulated sugar
1 1/4 cups cake flour, sifted
1 teaspoon vanilla extract
For the Rum Syrup:
1/4 cup water
2 tablespoon light corn syrup
2 tablespoon rum
For the Filling:
1 pkg vanilla instant pudding mix
1 1/4 cups fat free milk
3 tablespoons cool whip
1 pkg chocolate instant pudding mix
1 1/4 cups fat free milk
3 tablespoons cool whip
2 cups cool whip
For the Chocolate Buttercream:
1/3 cup water
2 tablespoons meringue powder
1 (1 lb) box powdered sugar, sifted
10 tablespoons Crisco shortening
2 oz semisweet chocolate, melted
1/3 cup unsweetened cocoa
5 tablespoons light corn syrup
1/2 teaspoon vanilla extract
1/4 teaspoon almond extract
1/4 teaspoon butter flavor
1/4 teaspoon salt
For the Royal Icing:
1 tablespoon meringue powder
1 1/4 cup powdered sugar, measured before sifting
2 tablespoons water
Few drops of food coloring (any color)
Directions:
You might want to make the royal icing flowers several days before making the cake, because they need time to dry.
For the Cake:
Preheat oven to 375F. Grease and flour two 8-inch cake pans.
Beat egg yolks and sugar in a large mixing bowl until lemon colored. (They will look crumbly, like they're never gonna mix, but don't freak out like I did; they will look better later on!)
In another bowl, beat egg whites until stiff but not dry. Fold half of the egg whites into the egg yolk mixture. Sift flour over the mixture and fold very gently until just incorporated, then add the remaining egg whites and gold, again, until just incorporated. Be very, very gentle, and try to mix them in quickly but thoroughly, until you have no more white streaks.
Pour the batter into the prepared pans and bake in a preheated oven for 20-25 minutes, or until a toothpick inserted in center comes out clean. (I baked them for 22 minutes and the sides came out a little hard)
Remove cakes from the oven and turn out of pans onto wire racks to cool completely.
You can do that, or you can wrap them tightly with plastic wrap when they are warm and put them in the freezer to lock in the moisture. I read about this method in a blog once and I use it whenever I feel like I overbaked the cakes just a tad. Once they cool down, take it out of the freezer and let it become room temperature.
For the Rum Syrup:
I know you're supposed to boil water and sugar first and then add the rum, but I didn't have time for that.
I simply combined water, corn syrup, a splash of rum, and called it a syrup:)
For the Filling:
The ingredients kinda speak for themselves. Mix the vanilla pudding mix with fat free milk, as directed on the box, let it set, then stir in the cool whip. Do the same with the chocolate pudding mix. Refrigerate until use.
For the Chocolate Buttercream:
Combine water and meringue powder. Whip at high speed until peaks form. Sift in 1 cup of powdered sugar into the mixture, 1/2 cup at a time, beating at low speed after each addition. Alternately add shortening and remaining sugar. Add cocoa powder, melted chocolate, and corn syrup. Add salt and flavorings. Beat at low speed until smooth.
To Assemble:
Cut off the tops of each cake to make them flat. Slice them horizontally in half to make four cake layers.
Put one layer in an 8-inch cake ring. Sprinkle with rum syrup. Pipe the chocolate buttercream around the cake with a round or star tip so that the filling doesn't ooze out. Fill in with vanilla filling.
Top with a second cake layer, sprinkle with rum syrup, pipe a buttercream border, and fill in with cool whip. Reserve some for the very top.
Top with a third cake layer, sprinkle with rum syrup, pipe a buttercream border, and fill in with chocolate filling.
Top with the last cake layer, then spread the top with remaining cool whip. Coat the sides thinly with chocolate buttercream.
Using a basketweave tip (#47), make
basketweave designs
on the side. Then, using a star tip (#21), make
rope borders
around the top of the cake. (Click on the links for detailed how-to's.)
Pipe a message on top with the remaining frosting, using a round tip (#3).
My 'Happy Birthday' message kinda soaked into the cool whip and made a smudgy mess; I don't know why that happened.
For the Royal Icing:
Beat all ingredients until icing forms peaks (7-10 minutes at low speed with a heavy-duty mixer, 10-12 minutes at high speed with a hand-held mixer). For stiffer icing, use 1 teaspoon less water. Add 1-2 drops of desired food coloring. Fill a decorating bag with icing and pipe flowers, leaves, whatever you want, on a piece of parchment paper, and let it dry completely for 1-2 days, more if the flowers are big.
When they become candy-hard, decorate the cake!