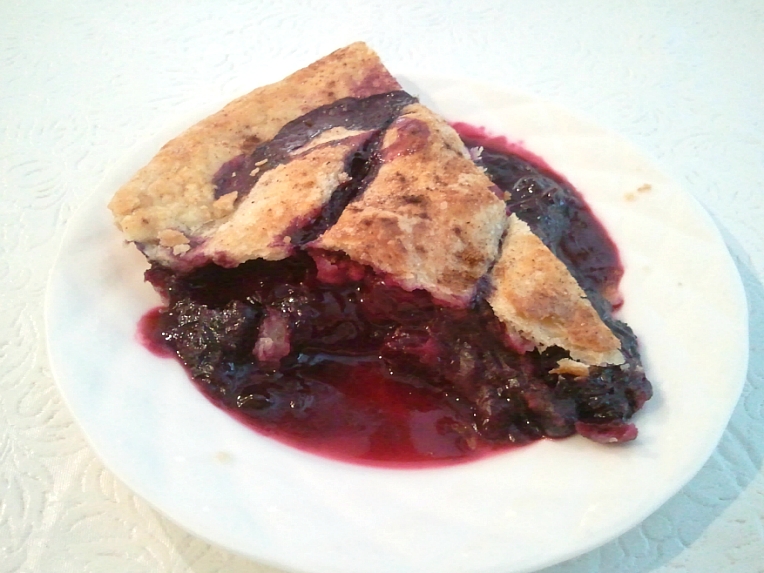 Yes, it's a pie; not a cobbler.
I made this fresh blueberry pie at 10pm and I didn't want to try it late at night (even though it would have been best as soon as it came out of the oven... all warm and gooey...*sigh*)
So when I heated it in the microwave the next morning, the filling melted completely and made itself a "jam".
Oh, well. It was awesome anyways:)
I'm sure the same thing would have happened if I had it last night... right?
This pie has the perfect amount of sweetness and every mouthful bursts with blueberries.
Honestly, I don't know what would explain it better than that.
OMG just looking at the photos makes me want to have a slice, like, right now.
Too bad I already had two this morning. I should restrain myself!
The crust is nice and flaky, and it is a no-fail recipe, so I highly recommend you try it out!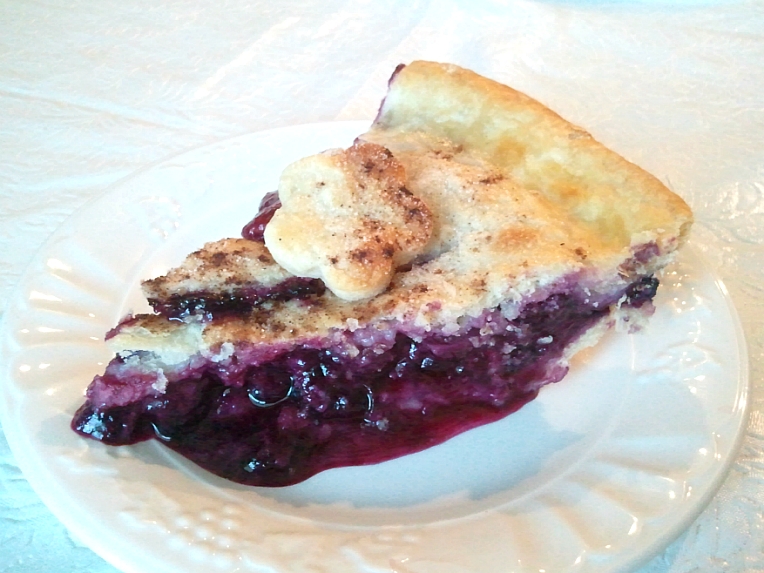 Fresh Blueberry Pie
makes one 9-inch pie (serves 8-10)
Recipe adapted from
Pillsbury Best Desserts
Ingredients
:
For the Crust:
2 cups all purpose flour
1 teaspoon salt
2/3 cup cold shortening
5 to 7 tablespoons ice water (I used 7 and it still felt a bit dry - the end result was fab though!)
For the Filling:
3 1/2 cups fresh blueberries
3/4 cup sugar
1/4 cup all purpose flour
1/4 teaspoon cinnamon
2 teaspoons lemon juice
2 tablespoons margarine or butter (I forgot this, but again, turned out gorgeous)
Topping:
1 to 2 tablespoons milk
2 teaspoons sugar
Dash of cinnamon
Directions:
Preheat oven to 425F.
For the Crust:
In a medium bowl, combine flour and salt; mix well. With a pastry blender or two knives, cut in the cold shortening until it resembles coarse crumbs. Sprinkle with 1 tablespoon of ice water at a time, mixing lightly with a fork. Add water until the dough is just moist enough to form a ball when lightly pressed together. Divide the dough into two, shape each into a ball and flatten to a 1/2-inch thickness. On a floured surface, roll them into a 11-inch circle, using gentle, light strokes from center to edge. Do not roll back and forth, or else it will become tough! Roll up the circle onto the rolling pin, place it just above the pie pan, and roll it off to place it on the pan. Gently press in the bottom and up the sides with fingertips. Do not stretch. You can trim the edges and use the scraps to fill in any holes. Roll out the other half of the dough, then use it to top the pie filled with the blueberry filling. You might want to wrap the dough in plastic wrap and keep it in the refrigerator while you prepare the filling.
For the Filling:
In a large bowl, combine all ingredients except the margarine/butter and gently toss to coat evenly. Spoon into the pie pan lined with the bottom crust. Dot with margarine/butter. Top with second crust; seal edges and flute. Cut 4-5 slits to let the steam out; brush with milk, sprinkle with the 2 teaspoons sugar and dash of cinnamon.
Bake at 425F for 45 to 55 minutes or until the crust is golden brown. After 15 minutes of baking, cover the edges with strips of foil to prevent excessive browning.